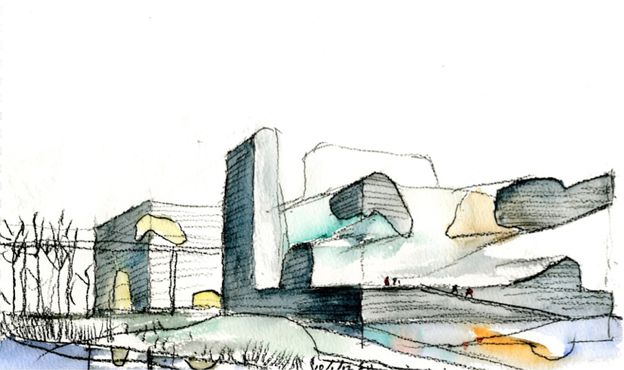 Ecology Museum & Planning Museum in China / Steven Holl Architects
"Steven Holl Architects has been commissioned to design the Ecology Museum and Planning museum in a new city being constructed near Tianjin, China. The new Eco City is a cooperation between the government of Singapore and China. Currently 30 percent constructed, the city will be home to an estimated population of 500,000 when complete.
The Ecology and Planning Museums will be 600,000 square feet total, and will be the first institutions to be constructed in the cultural center of the new city.  
Both museums will be 20,000 m2 with a service zone connecting them below grade, bringing the total construction to 60,000 m2. A high speed tram running between these two museums connects to the the central business district of Eco-City."
(Architect news, 09 January 2013)
Architect: Steven Holl Architects
Location: Tianjin, China
Planning Museum: 215,280 sqft
Ecology Museum: 215,280 sqft
Design Architect: Steven Holl
Director in Charge: Roberto Bannura
Project Architects: Garrick Ambrose, Yu-Ju Lin, Michael Rusch
Project Team: Chris McVoy, Laetitia Buchter, Bell Ying Yi Cai, Xi Chen, Romeo Chang, Deng Ming Cong, Rychiee Espinosa, Nathalie Frankowski, Elise Riley, Wenying Sun, Yasmin Vobis, Manta Weihermann
Climate Engineers: Transsolar
Structural Engineer: CABR
Lighting Consultant: L'Observatoire International
Credits © Steven Holl Architects