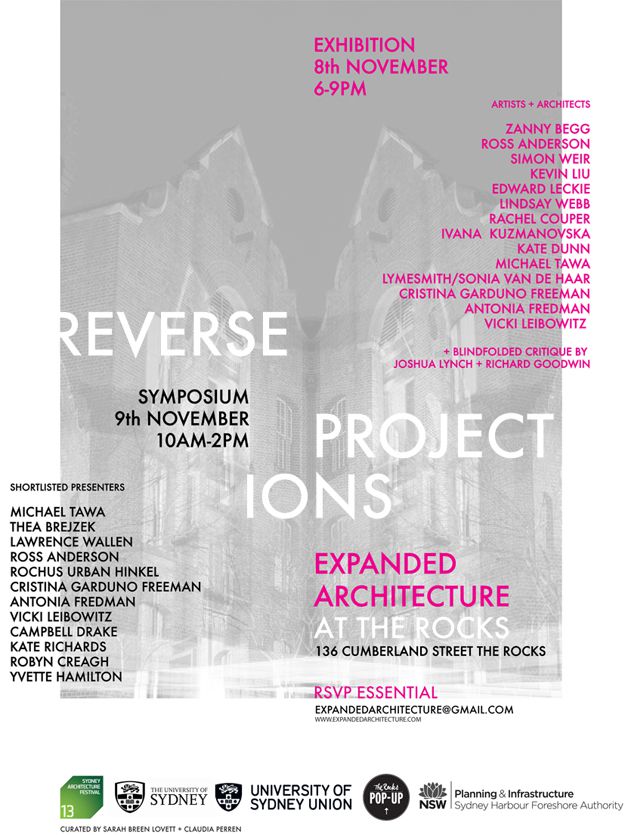 Expanded Architecture at The Rocks for Sydney Architecture Festival is in two parts: An Exhibition 8th November 6-9pm / A Symposium 9th November 10-2pm

Both of these events reflect upon the notion of Reverse Projections – which is the idea of drawing multifarious aspects of the urban environment into site-specific spatial practices.
The Exhibition Artists and Architects include:
Zanny Begg, Ross Anderson, Simon Weir, Kevin Liu, Edward Leckie,  Lindsay Webb Rachel Couper, Ivana Kuzmanovska , Kate Dunn, Michael Tawa, Lymesmith / Sonia van de Haar, Cristina Garduño Freeman, Antonia Fredman and Vicki Leibowitz / with Blindfolded Critique by Joshua Lynch + Richard Goodwin.

The Symposium Shortlisted Presenters include:
Michael Tawa, Thea Brejzek, Lawrence Wallen, Ross Anderson, Campbell Drake , Cristina Garduño Freeman, Antonia Fredman + Vicki Leibowitz, Rochus Urban Hinkel , Kate Richards , Yvette Hamilton. A detailed symposium timetable will be posted by November 1.

Exhibition curated by Sarah Breen Lovett + Claudia Perren. As Numbers are strictly limited RSVP is essential to: expandedarchitecture@gmail.com
Please indicate in your RSVP email if you would like to attend the exhibition or symposium.
More About Expanded Architecture:
In 2010 was Sydney's first international Architectural Film Festival and panel discussion at Performance Space, Clubhouse CarriageWorks, Sydney. It brought together the films from over 40 local and international artists and architects, concentrating on the intersections of avant-garde film, expanded cinema and architecture. In 2011, Expanded Architecture was again part of the Sydney Architecture Festival, but this time its focus expanded beyond the screen, to an engagement with a specific site, that of the cavernous and evocative CarriageWorks foyer space. The exciting one night only event showcased the moving image projection installation works of collaborative projects between artists and architects. The selected projects demonstrated a rich variety of approaches to exploring the building's social and material history, its spatial and experiential qualities, its visible and invisible fluxes and flows. In 2013 Expanded Architecture returns offering month long artist residencies in a Rocks Pop Up space, culminating in an Exhibition and Symposium, with the theme Reverse Projections. Expanded Architecture in 2013 is once again as part of Sydney Architecture Festival.
(Thanking the kind invitation of the curator, Sarah Breen Lovett /sydney.edu.au )