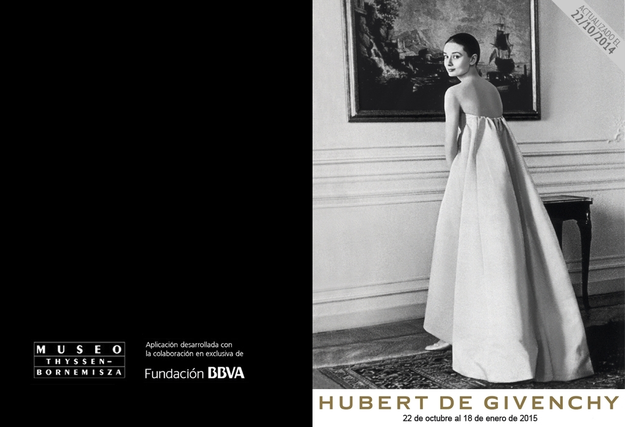 ---
"This exhibition, the first major retrospective to be devoted to Hubert de Givenchy and the Museum's first incursion into the world of fashion, will present a selection of the finest creations by the French fashion designer. Curated by Hubert de Givenchy himself, it will thus offer a unique focus on his collections over the past half century, from the founding of Maison Givenchy in Paris in 1952 to his retirement in 1996.
On display will be dresses that he designed for some of the 20th century's most iconic personalities, including Jacqueline Kennedy, the Duchess of Windsor, Caroline of Monaco and his muse and friend Audrey Hepburn (whom he dressed for films such as Sabrina and Breakfast at Tiffany's); examples of Givenchy's most original creations such as the "Bettina blouse" and the "sack dress"; and his admired prêt-à-porter designs, a concept he invented in 1954. These creations will be shown alongside a group of works of different periods and styles from the Museo Thyssen's collections." Museo Thyssen-Bornemisza
ES /"El Museo Thyssen-Bornemisza presenta la primera gran retrospectiva del modisto francés Hubert de Givenchy, un creador esencial del siglo XX y leyenda viva de la historia de la alta costura. La exposición constituye la primera incursión del Museo en el mundo de la moda mediante un enfoque excepcional de las creaciones del couturier a lo largo de casi medio siglo, desde la apertura en 1952 en París de su Maison hasta su retirada profesional en 1995."
Hubert de Givenchy Exhibition From 22 October 2014 to 18 January 2015 + via www.museothyssen.org
---