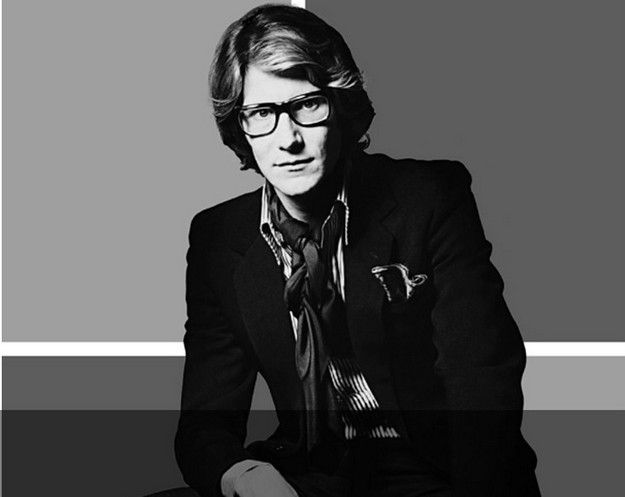 « In the 1960s and 70s, Yves Saint Laurent translated societal upheaval into haute couture. The origins of contemporary dress lie in the changes that he introduced in traditional society and in the conventions of feminine and masculine seduction. Saint Laurent favored style, attitude and seduction over the dictatorship of trends. He replaced the traditional commandments of fashion with flexible options, in step with life, movement and women's new position in society. "My weapon is the perspective in which I see my society," he said.
The exhibition at the ING Cultural Center offers an panorama of interweaving dialogues between the visionary Yves Saint Laurent and the spirit of his times, which he observed and translated into new sartorial expressions. Yves Saint Laurent a visionary, invites visitors to share in an unprecedented exploration of the singular Saint Laurent aesthetic.
A selection of one hundred haute couture or ready-to-wear models and new, mostly unpublished documents shed new light on the origins of these stylistic revolutions. A journey organized according to theme and illuminated by a contextualization of Yves Saint Laurent's work introduces the visitor to the uniqueness of his designs, shapes, materials and color palette as well as to his conception of a "democratized" haute culture.
Rare sketches, production drawings, patterns, client files, quest for ornaments, embroidery samples, magazines, and press articles from the archives of the Fondation Pierre Bergé – Yves Saint Laurent illuminate the alchemy of the Saint Laurent style. A collection of haute couture models represents the dazzling conclusion of the magic formula which transformed the designer's drawings and vision into a three-dimensional objects.
Certain creations from the innovative luxury ready-to-wear line, SAINT LAURENT rive gauche reveal how the designer who declared, "What interests me is making dresses that are really wearable", was inspired by the street. His couture house for paper dolls, which he created as an adolescent and which is shown here for the first time, reveals his precocious and visionary talent.
A child prodigy, Yves Saint Laurent dreamed of fashion in step with the times, merging realism and idealism and conveying both a wish to delight and the desire to be loved. His childhood fantasy became the guiding principle for fashion today: fashion is an attainable reality for everyone. »
Florence Müller
Curator of the exhibition, Yves Saint Laurent a visionary
Exhibition organized by ING Art in partnership with the Fondation Pierre Bergé - Yves Saint Laurent. Curator Florence Müller - Set designer agence NC, Nathalie Crinière
Exhibition / Yves Saint Laurent a visionary
ING Cultural Centre, Brussels
January 30 - May 5, 2013