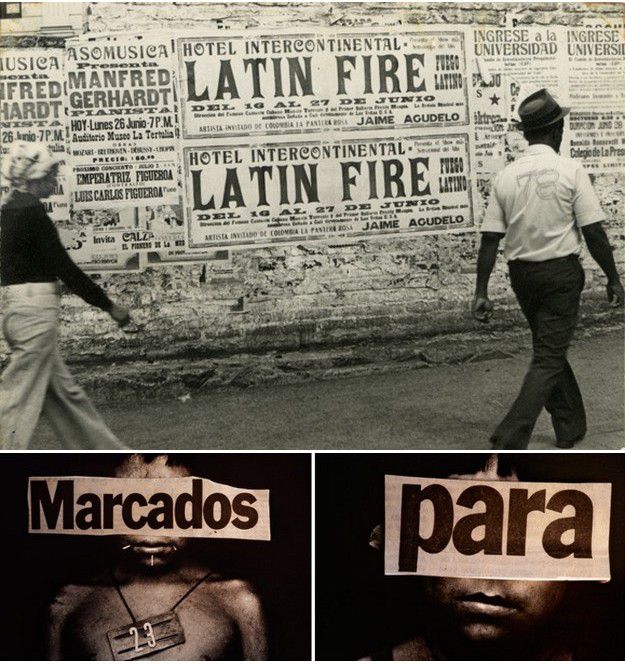 "From November 19, 2013 to April 6, 2014, the Fondation Cartier pour l'art contemporain will present América Latina 1960-2013, coproduced with the Museo Amparo in Puebla (Mexico). The exhibition will offer a new perspective on Latin American photography from 1960 to today, focusing on the relationship between text and the photographic image.
Bringing together more than seventy artists from eleven different countries, it reveals the great diversity of photographic practices by presenting the work of documentary photographers as well as that of contemporary artists who appropriate the medium in different ways. This unique presentation will provide the visitor with the opportunity to delve into the history of the region and to rediscover the works of major artists rarely exhibited in Europe."
// "Du 19 novembre 2013 au 6 avril 2014, la Fondation Cartier pour l'art contemporain présente América Latina 1960-2013, en coproduction avec le Museo Amparo de Puebla (Mexique). L'exposition offre une perspective nouvelle sur la photographie latino-américaine de 1960 à nos jours, à travers le prisme de la relation entre texte et image photographique. Rassemblant plus de soixante-dix artistes de onze pays différents, elle révèle la grande diversité des pratiques photographiques en présentant aussi bien le travail de photographes que des œuvres d'artistes contemporains. Cette exposition, véritable plongée dans l'histoire du sous-continent latino-américain, nous invite à (re-)découvrir des artistes majeurs rarement présentés en Europe." Fondation.Cartier.com
Artists exposed :
Elías ADASME (Chili), Carlos ALTAMIRANO (Chili), Francis ALŸS (Mexique), Claudia ANDUJAR (Brésil), Antonio Manuel (Brésil), Ever ASTUDILLO (Colombie), Artur BARRIO (Brésil), Luz María BEDOYA (Pérou), Iñaki BONILLAS (Mexique), Oscar BONY (Argentine), Barbara BRÄNDLI (Venezuela), Marcelo BRODSKY (Argentine), Miguel CALDERÓN (Mexique), Johanna CALLE (Colombie), Luis CAMNITZER (Uruguay), Bill CARO (Pérou), Graciela CARNEVALE et le Grupo de Artistas de Vanguardia (Argentine), Fredi CASCO (Paraguay), Guillermo DEISLER (Chili), Eugenio DITTBORN (Chili), Juan Manuel ECHAVARRÍA (Colombie), Eduardo Rubén (Cuba), Felipe EHRENBERG (Mexique), Roberto FANTOZZI (Pérou), León FERRARI (Argentine), José A. FIGUEROA (Cuba), Flavia GANDOLFO (Pérou), Carlos GARAICOA (Cuba), Paolo GASPARINI (Venezuela), Anna Bella GEIGER (Brésil), Carlos GINZBURG (Argentine), Daniel GONZÁLEZ (Venezuela), Jonathan HERNÁNDEZ (Mexique), Graciela ITURBIDE (Mexique), Guillermo IUSO (Argentine), Alejandro JODOROWSKY (Chili), Claudia JOSKOWICZ (Bolivie), Marcos KURTYCZ (Mexique), Suwon LEE (Venezuela), Adriana LESTIDO (Argentine), Marcos LÓPEZ (Argentine), Pablo LÓPEZ LUZ (Mexique), Rosario LÓPEZ PARRA (Colombie), LOST ART (Brésil), Jorge MACCHI (Argentine), Teresa MARGOLLES (Mexique), Agustín MARTÍNEZ CASTRO (Mexique), Marcelo MONTECINO (Chili), Oscar MUÑOZ (Colombie), Hélio OITICICA (Brésil), Damián ORTEGA (Mexique), Pablo ORTIZ MONASTERIO (Mexique), Leticia PARENTE (Brésil), Luis PAZOS (Argentine), Claudio PERNA (Venezuela), Rosângela RENNÓ (Brésil), Miguel RIO BRANCO (Brésil), Herbert RODRÍGUEZ (Pérou), Juan Carlos ROMERO (Argentine), Lotty ROSENFELD (Chili), Graciela SACCO (Argentine), Maruch SÁNTIZ GÓMEZ (Mexique), Vladimir SERSA (Venezuela), Regina SILVEIRA (Brésil), Milagros DE LA TORRE (Pérou), Susana TORRES (Pérou), Sergio TRUJILLO DÁVILA (Colombie), Jorge VALL (Venezuela), Leonora VICUÑA (Chili), Eduardo VILLANES (Pérou), Luiz ZERBINI (Brésil), Facundo DE ZUIVIRÍA (Argentine).
Exhibition curators :
Ángeles Alonso Espinosa, Hervé Chandès, Alexis Fabry, Isabelle Gaudefroy, Leanne Sacramone et Ilana Shamoon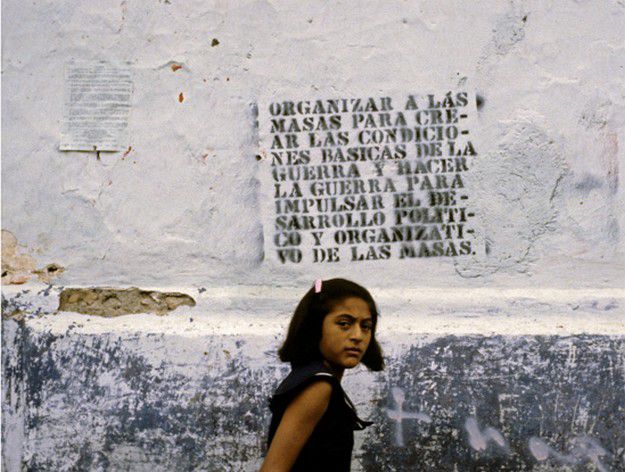 Photo n°1: Ever Astudillo, sans titre, série Latin Fire, 1975-1978. Photographie noir et blanc, 8,3 x 11,4 cm. © Ever Astudillo. Collection privée, courtesy Toluca Fine Art, Paris
Photo n°2: Claudia Andujar, sans titre, série Marcados Para, 1981-1993. Photographie noir et blanc, 70 x 103 cm. © Claudia Andujar. Collection Galeria Vermelho, São Paulo
Photo n°3: Marcelo Montecino, Managua, 1979. Photographie couleur, 20,1 x 25,3 cm. © Marcelo Montecino. Collection privée, courtesy Toluca Fine Art, Paris // All photos from Fondation.Cartier.com /