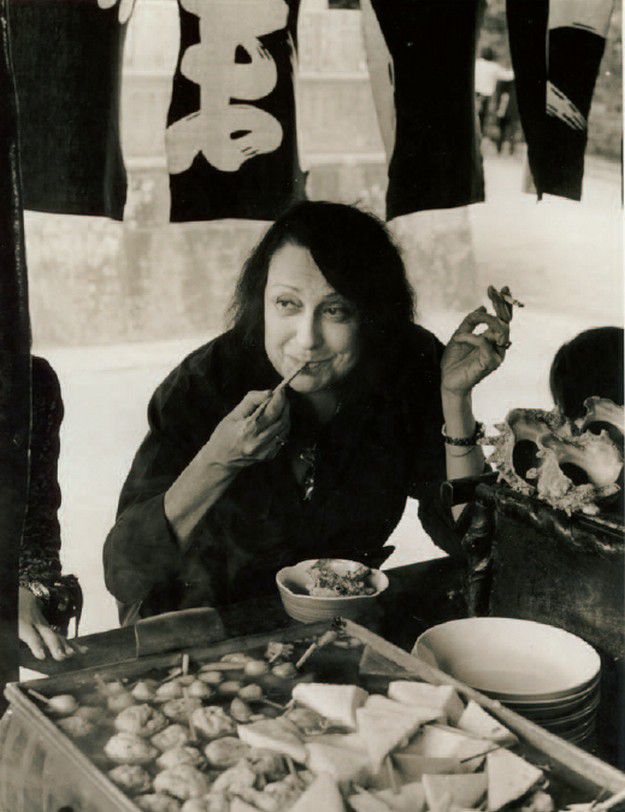 ©  Instituto Lina Bo e P.M. Bardi
Lina Bo Bardi "Together" exhibition at Pavillon de l'Arsenal in Paris 
12 Nov 2013 - 19 Jan 2014
"Throughout her work, which embraced architecture, furniture design, curating, writing, illustration, and stage sets, she showed a truth and integrity, living her social and creative ideas. For Lina, a handcrafted toy zebra could stand beside a De Chirico painting or a Calder mobile, and inspire a new conversation.
This exhibition, which has travelled to Paris from London, Vienna and Basel, reveals not only the public face of Lina Bo Bardi – the work she created in SESC Pompéia, which continues to interact with the street life of São Paolo – but her intimate world too: the life she created for herself and her husband Pietro Maria Bardi in The Glass House (1951).
Born in Rome in 1914, a proponent of modernist architecture, Bo Bardi moved to São Paulo in 1946, immersing herself in the politics and culture of Brazil. But the turning point came in 1958-64 when, living in Salvador de Bahia, she found the roots of Brazil's popular culture – 'a hardship and poetry' – subsequently integrating it with the values of the Modern Movement. She applied sophisticated construction techniques learned from local craftsmen to her design for the Museu de Arte Popular do Unhão, Bahia (1959). She also planned the creation of a crafts centre and an industrial design school. In her words: 'It was to be a Museum of "Art" as an "Art", that is, to "do things", everyday happenings.'
Many years later, in São Paulo, Bo Bardi was commissioned to design SESC Pompéia (opened in 1982), a leisure centre built in an old factory. She organised the space without hierarchies: swimming was deemed as important as learning to weave, attending a jazz concert, or playing chess. She created a culture of free convivial diversity that continues today: environments where the old and young interact, and the textures of the building are in tune with the fabric of the city.
Lina Bo Bardi: Together is a tribute to Bo Bardi's work, and to her inclusive philosophy. It is also a re-enactment of the vitality and creative momentum that her work and writings continue to inspire, especially now that her work is being rediscovered, outside Brazil. Bo Bardi's words, as a writer and speaker, are equal in importance to her designs and buildings, and her voice is immediately encountered above the staircases approaching the first floor of the Pavillon de L'Arsenal, as a 'rain' of quotes (in French, Portuguese and English) held by paper hands – a motif often sketched by Lina – made by artist Madelon Vriesendorp. In the central void, first seen from below, and then in more detail on reaching the first floor, are enlarged images of Lina and her designs, suspended in the free space, and relating directly to the timeline, which is positioned at each end of the void.

The exhibition, which runs like a ribbon around the space, explores the public and private lives and work of Lina Bo Bardi, and is divided into three parts. On one side is the main installation, by Madelon Vriesendorp, who conducted workshops at the Solar do Unhão, in the museum designed by Bo Bardi, combining objects made there with her own work – inspired by Brazilian popular culture – and artefacts by Brazilian craftspeople (handcrafted toys, utensils, art and ceremonial objects) found in local markets. Tapio Snellman's film sequences, projected on to screens and on the floor, explore the textures, colours, sounds, and life generated by SESC Pompéia within São Paulo, drawing parallels with the city of Salvador.
On the other side, a film documentary on Bo Bardi, made in the 1980s, is accompanied by reading material, and visitors are then given a glimpse into the intimate world of The Glass House, São Paulo (now the setting for the Instituto Lina Bo e P.M. Bardi).
Photographs by Ioana Marinescu and a film by Tapio Snellman, showing the objects (from toys and shells to art and recycled things) that Lina chose to display in her own environment, are accompanied by three prototypes of The Bowl Chair (1951), now manufactured for the first time in a limited edition by Arper (Italy), using new technology in the spirit of Lina Bo Bardi. Snellman's film of The Glass House and gardens (in which Lina's tortoise still roams) is a poignant reminder of Bo Bardi's absence, but more importantly, of her continuing presence through the work, objects and writings she left behind. Above all, she integrated art with life, conviction with playfulness, and creativity with honesty, in what she gave and how she lived" Noemi Blager, architect and curator © Pavillon de l'Arsenal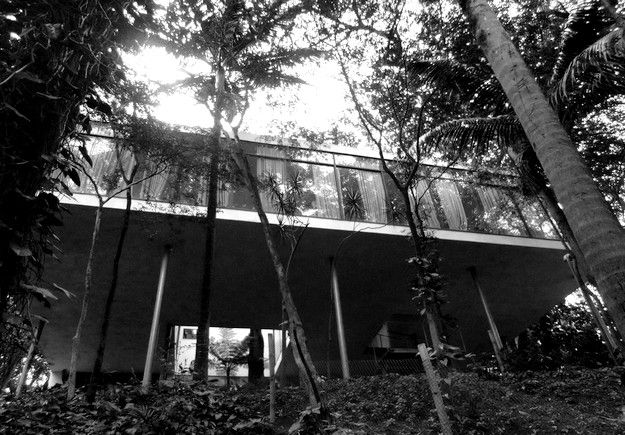 Lina Bo Bardi Architecture, Casa de Vidro/The glass house, São Paulo 1951
//"Lina Bo Bardi respecte les gens plus que tout : leur énergie, ce qu'ils expriment, la liberté collective. Elle tente de faire disparaître hiérarchies et divisions en créant des architectures qui reflètent la texture et la diversité de son pays d'adoption, le Brésil, et en organisant des expositions d'art populaire, dans lequel elle perçoit la poésie de tous les jours. Partout dans son travail – architecture, design de mobilier, expositions, écriture, illustrations, mises en scène –, elle manifeste un sens de la vérité et de l'intégrité, et vit elle-même en accord avec ses idées sociales et artistiques. Pour Lina, un jouet d'enfant en forme de zèbre fabriqué à la main peut figurer à côté d'une peinture de De Chirico ou d'un mobile de Calder, et inspirer une nouvelle conversation.

Cette exposition, qui a voyagé de Londres à Paris en passant par Vienne et Bâle, révèle non seulement la face connue de Lina Bo Bardi – ce qu'elle crée au SESC Pompeia, qui continue de vivre en interaction avec les rues de São Paulo –, mais aussi son monde intime : l'univers qu'elle crée pour elle-même et son mari, Pietro Maria Bardi, dans la maison de Verre (1951).

Née à Rome en 1914, Lina Bo Bardi, engagée en faveur de l'architecture moderne, part vivre à São Paulo en 1946, s'immergeant dans les idées politiques et la culture du Brésil. Mais le véritable tournant intervient entre 1958 et 1964 quand, à Salvador de Bahia, où elle vit, elle découvre les racines de la culture populaire brésilienne, faite « d'épreuves et de poésie », et mélange celles-ci avec les valeurs du Mouvement moderne. Elle utilise des techniques de construction spécifiques enseignées par les artisans locaux pour la conception du Museu de Arte Popular do Unhão, Bahia (1959). Elle a également pour projet la création de centres d'artisanat et d'écoles de design industriel. Selon ses propres mots : « Il se devait d'être un musée d'art, art au sens de création et d'événements quotidiens. »

Des années plus tard, à São Paulo, Lina Bo Bardi est chargée de la conception du SESC Pompeia, un centre de loisirs bâti dans une ancienne usine. Elle y distribue les espaces sans hiérarchie : nager y est aussi important qu'apprendre à tisser, assister à un concert de jazz ou jouer aux échecs. Elle crée une culture de la convivialité et de la liberté dans la diversité, qui perdure aujourd'hui : c'est un environnement où les différentes générations dialoguent entre elles, et où les matériaux qui constituent le bâtiment s'insèrent parfaitement dans le tissu urbain." Noemi Blager © Pavillon de l'Arsenal
Partner/Partenariat : arper
Avec le soutien de : British Council  +  Instituto Lina Bo e P.M. Bardi + SESC
Curator/Commissariat :Noemi Blager, architecte
artistic installation / Installation artistique : Madelon Vriesendorp, artiste et architecte
Video/Installation vidéo : Tapio Snellman, vidéaste, artiste et architecte
Photographies de la Casa de Vitro : Ioana Marinescu
Scenography/Scénographie : Assemble, architectes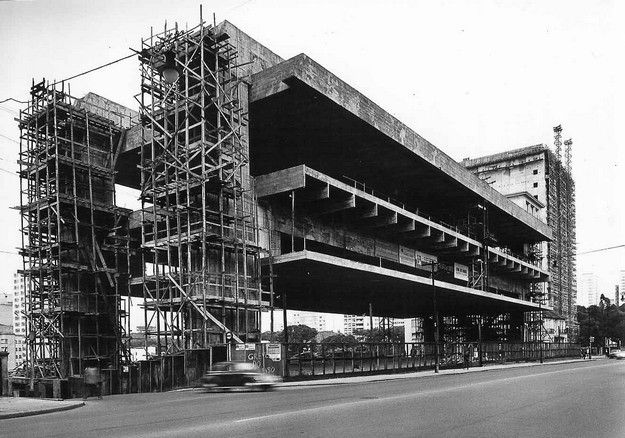 Lina Bo Bardi Architecture, MASP Art Museum of Sao Paulo, Brasil / 1968. Our favorite building.