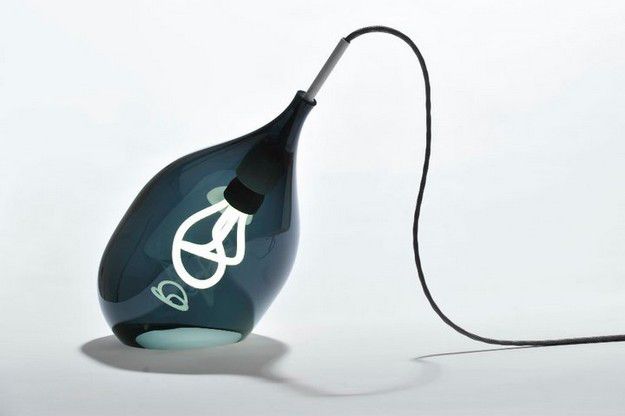 EN// Designed by Samuel Wilkinson « The Vessels look to celebrate the Plumen 001 from every different perspective. The designs were produced specifically to complement the flowing forms of the Plumen 001. When illuminated the glass tint mutes the light without hiding the form and produces an unexpected irregular reflection that appears holographic. » Designer, Samuel Wilkinson graduated in furniture and related product design at Ravensboure College of Art & Design in 2002. While at Ravensbourne Wilkinson won several design awards, including the RSA award and D&AD New Blood. He went straight into employment working for leading consultancies such as Tangerine, Fitch:London, PearsonLloyd, and Conran. During these years he worked on various award winning projects for leading clients such as British Airways, Audi, LG, Samsung, and Virgin Airways.
FR//The Vessels dessiné par le designer anglais Samuel Wilkinson a pensé une suspension spécifiquement dédié à la mise valeur de cette ampoule sculpturale.
Déclinée en transparent, jaune ou fumé et réalisée par un artisan souffleur de verre, chacune des trois créations a été découpée avec un angle en diagonal ou droit . Une fois la lampe allumée, le verre atténue la lumière et met en valeur les lignes singulières de l'ampoule Plumen 001. S'opère alors tout un jeu graphique autour de la réflexion lumineuse révélant des formes holographiques.