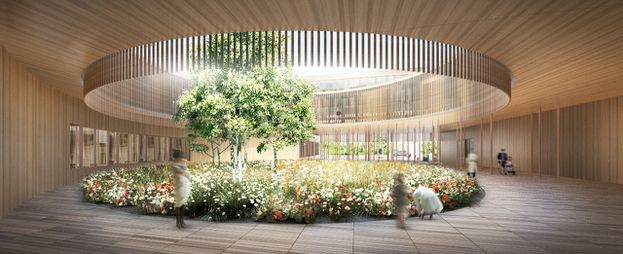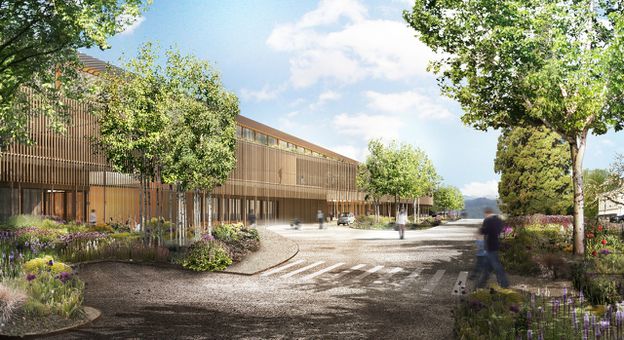 Herzog & De Meuron - Children's Hospital & Centre for Teaching and Research in Zurich. 
« The design for the Children's hospital envisions two complementary buildings of contrasting typology, programme and urban design, that are nevertheless geometrically related. The main hospital building serves the examination and treatment of children and adolescents, while the teaching and research centre serves scientific work and mediation.

The Children's Hospital takes the form of a 3-storey building arranged around a series of courtyards like a small, introspective town. In-patients, out-patients and their relatives can move around as freely as possible between the different treatment areas. The 3-storey reflects the desire to create a child-friendly building, reminiscent in both scale and materiality of pavilion-style structures, and differs the usual hospital stereotype.
Architecture and nature are interwoven here. The interior courtyards open up intermittently to the outside, allowing daylight to permeate the low, deep building.

Each of the three floors has a dedicated function, reflected in the layout of the rooms, and designed to provide maximum flexibility. Examination, treatment rooms and laboratories are located on the ground floor, as are the therapeutic facilities and the restaurant, while the doctors' offices are situated on the first floor, and the wards on the top floor. Overlaying these three "ideal" geometries creates spatial variety and orientation. Wood is the predominant material of the facades and interiors, creating a more domestic atmosphere for children, their parents and hospital staff. The use of wood also echoes the rural surroundings of the Lengg district.
The Centre for Teaching and Research, a tall and round freestanding building, is positioned in an open space in the center of the health campus comprising several different clinics. It is an obviously public building in which everything revolves around scientific research and its dissemination. Six floors of research laboratories and offices are hovering above a kind of agora comprised of auditoria and seminar rooms. A central courtyard, also circular, follows the course of the sun.
Although the two building types are typologically different, they are architecturally related. Both feature an overlay of rectangular and circular geometries. In the children's hospital, the circle is used to interfere the right-angled basic order and to mark specific areas of the building: points of orientation, sub-centres, meeting points, transitional areas. The round teaching and research centre is a meeting point in its own right, forming a sub-centre on the hospital campus. Within its circular shell, the rooms are arranged at right angles. »
 © Herzog & de Meuron, 2012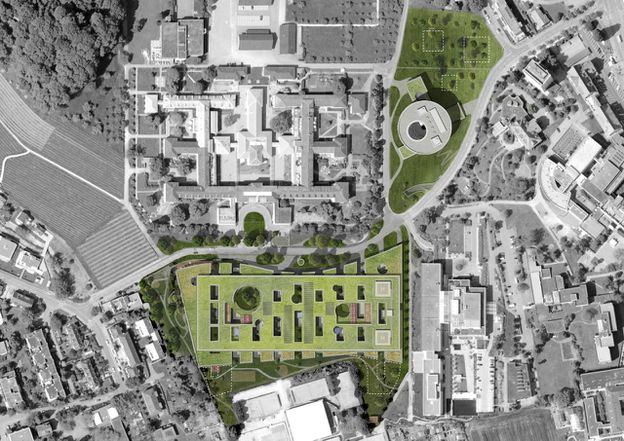 Architect: Herzog & de Meuron
Project : Kinderspital Zürich
Location: Zurich, Switzerland
Client:Kinderspital Zürich – Eleonorenstiftung, Zurich
Project Team : Jacques Herzog, Pierre de Meuron, Christine Binswanger (Partner in Charge), with Mark Bähr (Project Manager), Jason Frantzen (Associate), Alexandria Algard, Maximilian Beckenbauer, Alexander Franz, Ondrej Janku, Christoph Jantos, Johannes Kohnle, Severin Odermatt, Blanca Bravo Reyes, Raúl Torres Martin, Mika Zacharias
Total floor area: 84.579 sqm
Structural engineering: ZPF Ingenieure AG, Basel
Landscaping: August Künzel, Münchenstein
General planning: Gruner AG, Basel

Visualization & model : Bloomimages, Hamburg / model © alinea

© Herzog & De Meuron