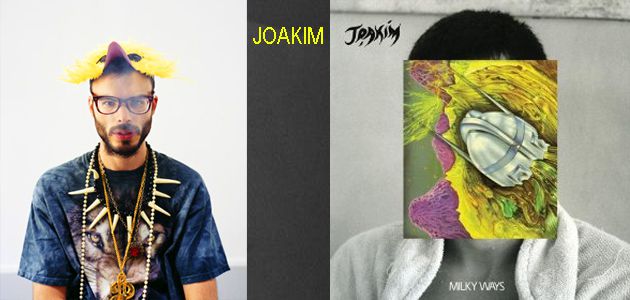 Bon alors, que dire si ce n'est qu'il est majestueusement bon son son !  Subtile texture éléctro,  au goût très très underground.  On kiffe grave ! et c'est peu de le dire... MILKY WAYS est son dernier album à découvrir.

http://www.joakimikaoj.com/
  + 
http://www.myspace.com/jimibazzouka
+
http://www.tigersushi.com/

* 1999 : Tigersushi
* 2003 : Fantômes
* 2007 : Monsters And Silly Songs
* 2008 : My Best Remixes
* 2009 : Milky Ways
Joakim Bouaziz est un DJ français d'origine suédo-marocaine. Son nom de scène est Joakim. Originaire de la scène électronique, DJ et remixeur (dont Pleasure from the bass de Tiga), ce musicien parisien est aussi le boss du label Tigersushi, label qui occupe une place à part grâce à un éclectisme affirmé et un gout pour l'underground. Son album Monsters and Silly Songs sorti en 2007, mélange habilement parties acoustiques et électroniques, et nous ballade entre tracks orientées dancefloor live (Drumtrax) et pop plus introspective aux accents kraut (Lonely Hearts).