You know the score, twice a year France's freshest label releases a Kitsuné Maison compilation which gathers red hot productions from exciting newcomers and in-house artists. This edition is quite special as it celebrates Kitsuné's 10th anniversary. The baby's become a child who now walks and even runs. So Kitsuné's treated itself to a particularly endearing selection that epitomises in many ways what Kitsuné's about.
For this occasion Kitsuné's captain Gildas Loaec tells us all: "We treat ourselves by releasing the music that we like, hoping it'll touch others too. Our fan base keeps on growing, we believe it is working out pretty well."
In 10 years Kitsuné has developed a strong identity by associating forward-thinking sounds and timeless style.
"Kitsuné's biggest achievement in music? Launching Two Door Cinema Club, we believe their second album 'Beacon' will become a classic. It's not easy but we reckon we can do it again. We also have great hopes for our latest protégés Citizens!, a great band with an exceptional singer. A tip? Curiosity. It's essential." (c) kistuné.fr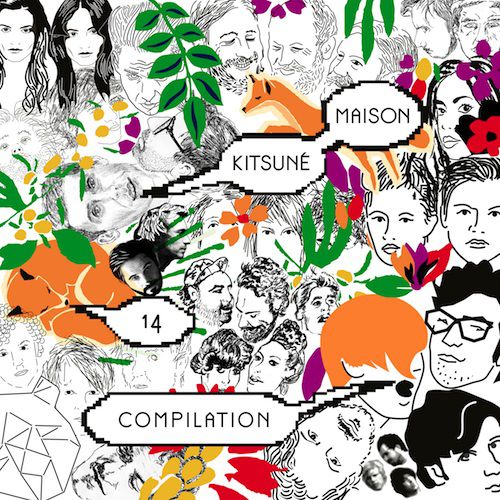 Kitsuné Maison 14
mor information : http://www.kitsune.fr/journal/
Tracklisting :
01 Saint Lou Lou - Maybe You
02 Citizens! - True Romance (Gigamesh remix)
03 Friends - I'm His Girl (Jake Bullit remix)
04 Rebecca Molina - Fall Right
05 Plastic Plates - Things I Didn't Know I Loved (feat. Simon Lord)
06 Lorenz Rhode - Any Kind Of Pressure (feat Jamie Lidell) (radio edit)
07 Moonlight Matters - Come For Me (feat. Gustaph) (Punks Jump Up freestyle mix)
08 Two Door Cinema Club - Sun (Gildas Kitsuné Club NIght remix)
09 Peter & The Magician - Memory (Le Crayon remix)
10 RÜFÜS - This Summer (JBAG remix)
11 Thomas Azier - Red Eyes (Mike Luck remix)
12 Saint Michel - Friends
13 Monde Ideal - Future Waits
14 Wildcat ! Wildcat ! - Please And Thank You
15 Encore 
16 Is Tropical - Venezuela (feat. Get People)
17 Plaitum - Geisha