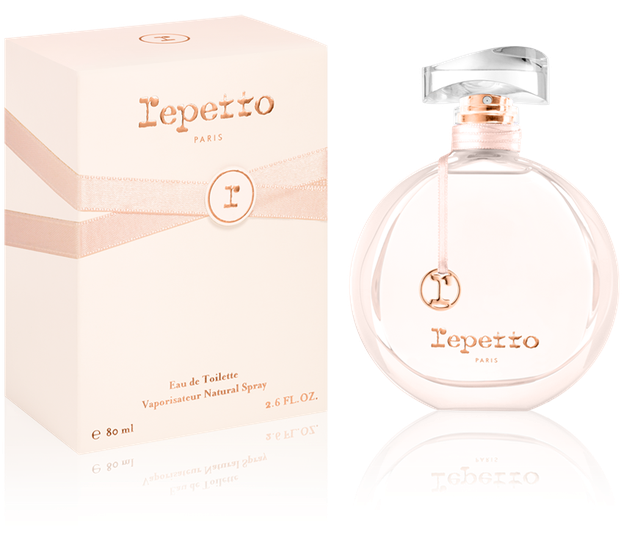 Here the Ad campaign/video "Instants précieux" Acte 1, with Dorothée Gilbert, prima ballerina and ambassadress of the first Repetto perfume / Creative Director : Jean-Baptiste Rougeot / Film Director: Séraphin Ducellier / Music: "Thaïs -Méditation" composed by Jules Massenet, interpreted by J. Semelczi , Camerata Transylvannica directed by G. Semelczi /
The bottle
It is a timeless bottle in movement, as an arabesque a night of ballet. The satin ribbon branded with the little charm wraps delicately like a ballet shoe around the ankle.
The fragance
A satin rose that the trail twirls to wrap you like an infinite satin ribbon. A graceful and carnal fragrance. Top Notes,Pear & Cherry Blossom / Heart Notes, Rose & Orange blossom / Base Notes, Vanilla & Amber Wood /
Inspiration of the Perfumer
"The universe of Repetto inspired me to create a hand-sewn formula allying a selection of raw materials that both are luxurious and rich in authenticity. It is a musky powdery rose, quintessence of femininity." It is a refined formula which seeks for perfection through authenticity. It is an alliance of emotions: a satin veil which brushes the skin, a body which twirls and arches itself in an infinite grace. It is a musky powdery rose perfume where the rose is tutu by its dress, quintessence of femininity by its smell, mesmerizing by its beauty, and purity by its authenticity.
Olivier Polge, Perfumer at International Flavors and Fragrances