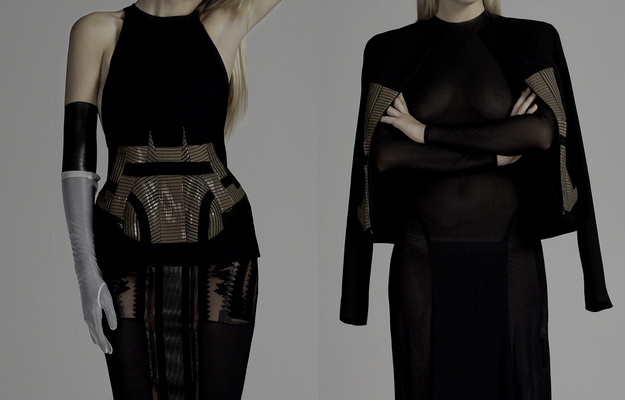 "Light in the dark" spring summer 2013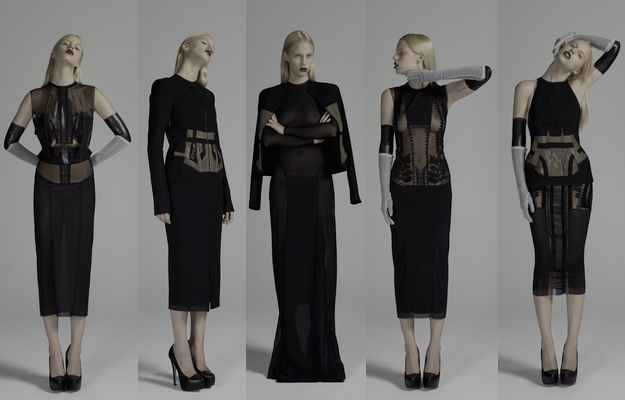 "Light plays a major part in Lea Peckre's work. In this collection images unfold and spin like in a movie scene. A car driving through the woods in the middle of the night. An eerie dreamy scenery plunged into darkness and a vision of plants appearing between shadows and lights. This is how Léa Peckre carves her silhouettes and plunges them into the dark to light them up with vegetal patterns. Transparent veils delicately overlapping. Shiny contrasts with matt and creates a rhythm of fabrics that shapes the silhouette. 
From thin dress to second-skin effect to lingerie-like graphic top, the fineness of the fabrics combined with structured and mastered designs shapes the body and follows its lines to emphasize a graceful and unapologetic womanliness. 
This crafty tailoring exercise from the jacket to the dress is matched with organic cuts. It blends technical materials with wood glimmering effects and gives a "parure"-like set of clothes" ©Lea Peckre
Léa Peckre is a Paris based womenswear brand founded in 2012.More information about the young fashion designer: http://leapeckre.com
Now remembering the last collections: "creeping vegetation on the blook" capsule Festival de Hyeres 2012 (Léa Peckre found her inspirations in the architect Adolf Loos tenets which denounce ornamentation as an artifice which masks the purity of form) / and collection "cemeteries are fields of flowers" Festival de Hyères 2011(she found her inspirations in the absurd beauties of the end of life and confusing places who gave a strong and mysterious atmosphere like cimeteries), here some visuals.