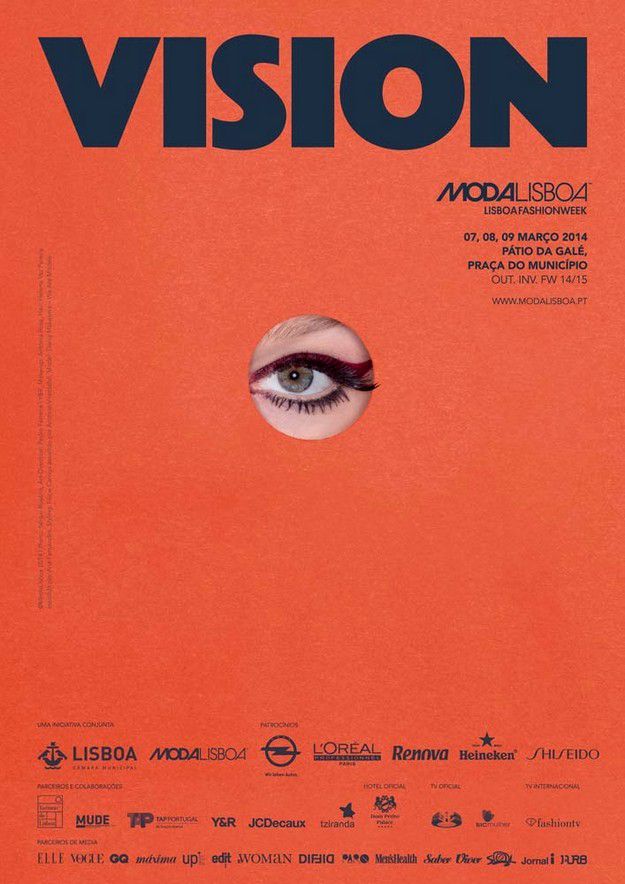 « Vision » is the theme of the next ModaLisboa / Lisbon Fashion Week FW14 scheduled for the 7th, 8th and 9th  march at Patio da Gale in Lisbon, where will be presented  the collections of national designers as Valentim Quaresma, Alexandra Moura, Nuno Baltazar, Lidija Kolovrat, Saymyname, Luís Carvalho | Lab, Ricardo Preto, Luís Buchinho, Nuno Gama, Aleksandar Protic, Ricardo Andrez | Lab, Pedro Pedro, Dino Alves, Miguel Vieira & Filipe Faísca, for autumn winter 14/15 season.

Vision, because the best way to predict the future is to create it. That is, by definition, the status and privilege of fashion with ambition and inspiration. Vision, because imagination has no limits. It is an absolute power that inspires and guides, defines trends, generates concepts.  And because everything had to be dreaming to be realized, Vision is the materialization of the future modernity.   Focus on discovering new fashion talents ​​this 42th edition calls also via the "Sangue Novo/New Blood" platform , 9 young and emerging designers ( Catarina Oliveira, Sofia Macedo, Ina Koelln, Nair Xavier, Cristina Real, 2ID por Sara Seidi e Rúben Damásio, Patrick de Pádua & Olga Noronha ) to present their first works with audacity. 
And because fashion is not limited to the catwalk, they prepared a presentation open to the public at the City Hall.  An initiative that complements and is an integral part of the Portuguese fashion week. You will find also cycle of conferences "Fast Talks About Fashion", the photo exhibition "Workstation" that includes the participation of  6 photographers , and "Wonder Room"  pop - up store that brings together a unique and exclusive selection of Portuguese brands that have successfully challenging their markets. We love the "affiche" very cinematographic. And because we love, we share ! Stay tuned for more very soon.
ModaLisboa "Vision" edition, « Fashioning the future »
07.08.09. March 2014 / Patio da Gale
Outono Inverno – FW 14/15
Find here below & review our selection from ModaLisboa - spring summer 2014 collections.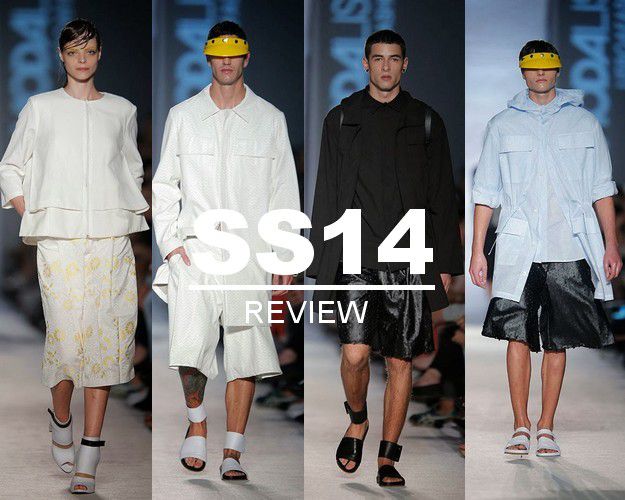 ---
PT// « Vision » é o tema da próxima ModaLisboa / Lisboa Fashion Week. O reencontro da Moda Portuguesa está marcado para os dias 7, 8 e 9 de março no Pátio da Galé, onde serão apresentadas, em primeira mão, as coleções para o outono/inverno 14/15. Vision porque a melhor maneira de prever o futuro é criá-lo. É esse, por definição, o estatuto e o privilégio da moda. Com ambição e inspiração, a ModaLisboa coloca-se no coração dessa urgência e projeta o futuro iminente que os designers idealizaram. Vision porque a imaginação não tem limites. É um poder absoluto que inspira e guia, define tendências, gera conceitos, impõe práticas. E porque tudo teve de ser sonhado para ser concretizado, Vision é a materialização do futuro, a modernidade por vir. Focados na descoberta de novos valores para a moda nacional, a 42.ª edição da Lisboa Fashion Week convoca à plataforma Sangue Novo, 9 jovens designers, 7 em nome individual e uma dupla, num acontecimento revelador do génio e do atrevimento emergentes.
E como a moda não se limita à passerelle, preparámos um conjunto de iniciativas abertas ao público nos Paços do Concelho, que complementam e já fazem parte integrante da semana de moda portuguesa. Destacamos o ciclo de conferências FAST TALKS ABOUT FASHION, a exposição de fotografia WORKSTATION que conta com a participação de 6 fotógrafos, e o WONDER ROOM, pop-up store que reúne uma seleção única e exclusiva de marcas portuguesas que vêm desafiando com sucesso os seus mercados. / www.ModaLisboa.pt
---