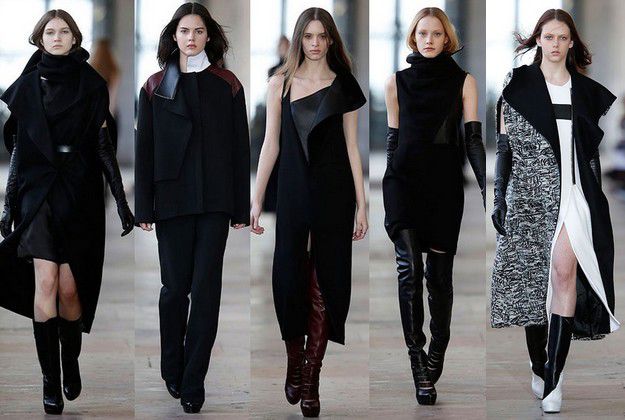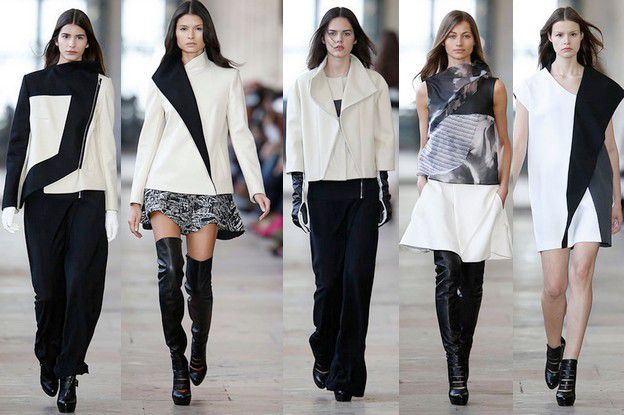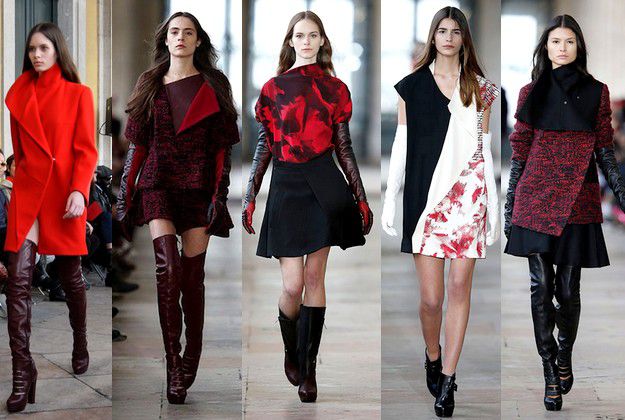 LUIS BUCHINHO - FALL WINTER 2013/14
A collection based on the theme of the strong identity of the portuguese revolution (april 25, 1974) interpreted in a modern language between a provocative attitude and a will of change. The designer Luis Buchinho reveals a graphic collections using red black and white colors, using the mens codes of this period. Strong silhouttes with a urban and very elegant touch, through geometric constructions and asymmetrical details. Skin, felt wool or tweed are used to give strenght and resistance to the look reminding this moments of resistance. A work well done,  very clean and sophisticated as usual. The shoes are Helsar shoes. 
+ about the designer / www.luisbuchinho.pt /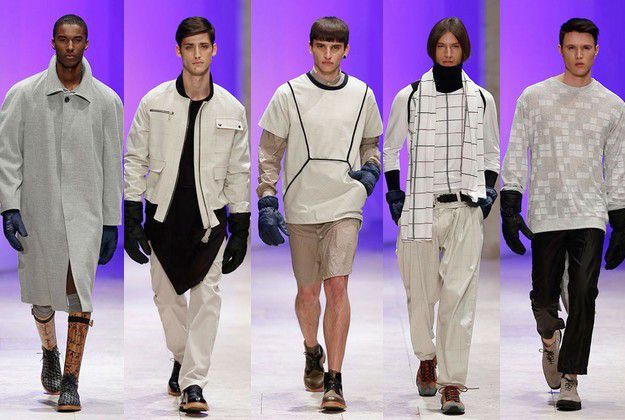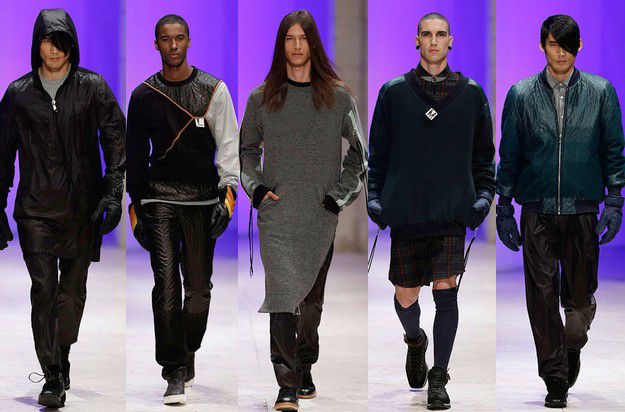 RICARDO ANDREZ LAB - FALL WINTER 2013/14
To present the collection the young designer used this text of Pedro Vaz Simoes:
"As if the man was god and the concrete a wing. As if it was the superimposed and hyperreal geometry of bones and muscles. The possible flower, in everything opposed to nature. A cave, a coyote. Rough and implosive, but a flower. And a landmark of a man". A fresh and young collection,  definitely contemporary ! with beautiful  "senhor prudencio" shoes (a traditional Portuguese shoemaker from the 50's in the communication and branding era. Associated to the know-how of other times and to a country where the footwear production remains as a characteristic of what portuguese  know to produce with quality in a technological and contemporary design and production.)

+ about the designer / www.ricardoandrez.com /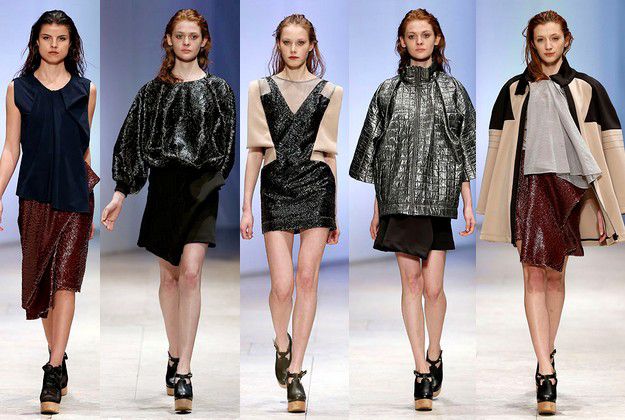 SAYMYNAME LAB - FALL WINTER 2013/14
"Stratosphèrique" collection : Clothes have the ability to create "moments of sensibility, transport people into a different state, so that things hidden may become visible and something that is not said and cannot be said, is". The person who wears it connects with it and transports into a different state. Black, caramel, plum, navy, garnet, pink bubble gym are the colors used on this collection 
+ about the designer / www.saymyname.pt /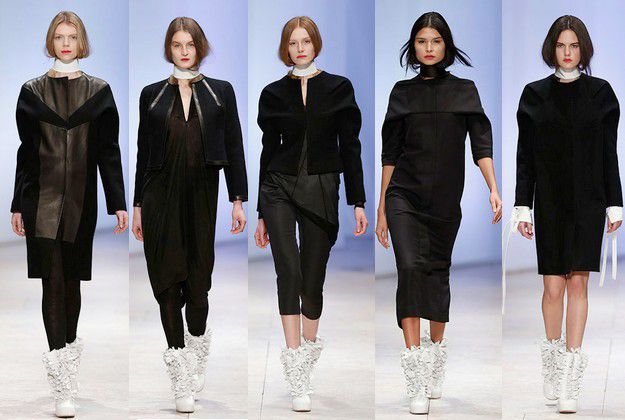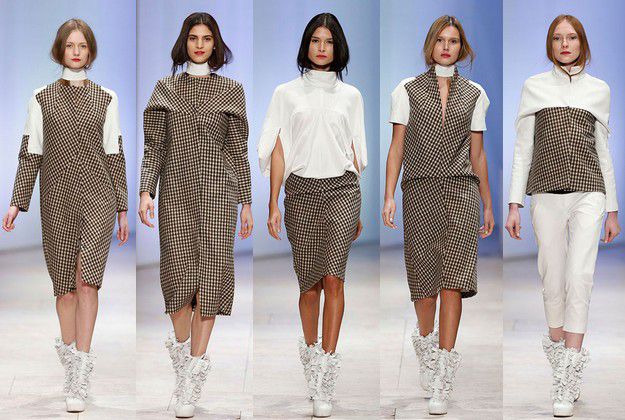 ALEKSANDAR PROTIC - FALL WINTER 2013/14
"Silence, Peacefulness, Maturity and religion" are the words used by the designer Aleksandar Protic to defines his collection. A work with geometric and structured forms using wool, cotton, leather and some mix fabrics with a very simple color palet : white, black and browns. A collection that brings us back to a mystical world, a sober, abstemious space where body is enlisted in clothes that mystifies.The shapes are gorgeous and very interesting folds.
+ abou the designer / www.aleksandarprotic.com /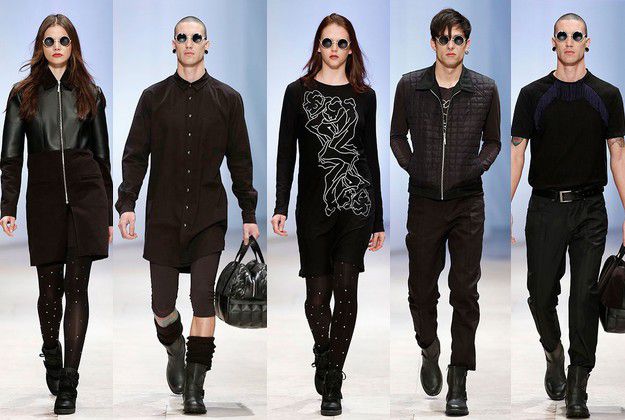 OS BURGUESES - FALL WINTER 2013/14
"Blackout" collection : in what you feel we TRUST, was the definition of the collection by the designers "os burgueses".
+ about the designer / www.osburgueses.com /
Photos by Rui Vasco - Courtesy of  Moda Lisboa.
To see the other articles about the shows, here the list :
MODA LISBOA DAY 3
MODA LISBOA DAY 2 (2)
MODA LISBOA DAY 1