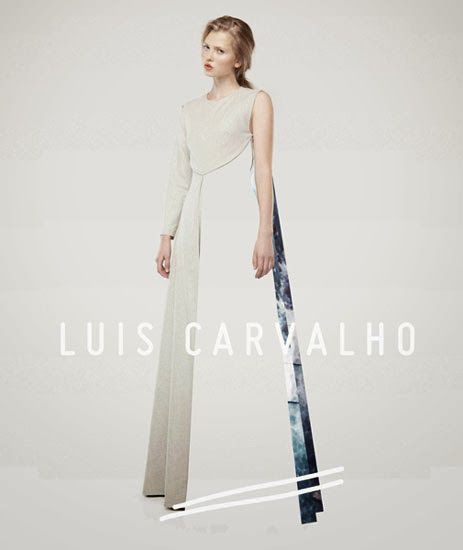 Luis Carvalho_spring/summer 2014 Campaign
From « Shelter » collection SS14, presenting during the last Lisbon Fashion Week in October 2013, where we are invited. Photography, Nian Canard / Styling: João Pombeiro / Hair & Makeup: Lola Carvalho / Collection: Over simple and cleaned pieces, are created overlays that will provide new forms and silhouettes, offering us a mix of styles classic/relaxed. The stained effects found on the print, created in the shadows of that different layers, and the metallic effect, all came from the rocks that construct this « shelter ». Luis Carvalho, fashion designer.
About the designer:
"Born April 6 1987, in Vizela (Portugal), he grew up in the middle of the clothes, surrounded by lines and fabrics in his mother's textile manufacture. It could have been an announced destiny, but it wasn't. Luis Carvalho always liked clothes, however, it was only when he was forced to think about his future, that he realized it as his possible career.
He took a Technical Course in Fashion Design Vocational School "Cenatex" in Guimarães, never before created a garment in his life. Soon he realized that he had made the right choice and he continued studies at the "Escola Superior de Artes Aplicadas do Instituto Politécnico de Castelo Branco", where he graduated in Fashion Design and Textiles. The first piece he recalls designing was a dress, which he presented at "Moda- Guimarães", but the coat is the piece that defines him, for its versatility and individuality.
Participated in numerous competitions in Portugal and abroad, and won the award for best male coordinated in Acrobactic 2011. He volunteered at ModaLisboa, worked in the studios of Filipe Faisca e Ricardo Preto as an assistant, and managed the Lisbon store of Miguel Vieira. He also worked as a fashion designer in the company of Salsa Jeans, until he decided to create and follow his own fashion design brand.
He finds references in the lines of Filipe Faisca and Luis Buchinho, houses of Lanvin, Givenchy and Dior by Raf Simons. However he believes that the greatest challenge is to create something that does not necessarily refer to past images. Usually his interest in details is the starting point to find a concept, a process that is similar in everything to a scientific trial and error. Always regarding every detail, he seeks a balance between classic and casual. His signature is always present in mixtures and contrasts with whom he likes to play. Luis is a reflection of his creations, a man for whom even the training suit jacket should be a blazer."