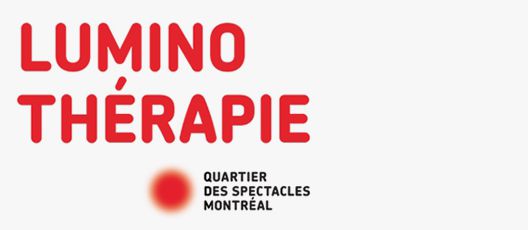 Montreal, February 18, 2014– The Luminothérapie winter event in Quartier des Spectacles just ended for the season but the Quartier des Spectacles Partnership is already getting ready for the next edition. Today the Partnership issued a call for proposals for the component of the program aimed at showcasing and enlivening Place des Festivals during Luminothérapie 2014-15. Registration will be open until April 4 at noon Montreal time.

Creatives of all backgrounds are invited to submit original concepts to be produced in the Quartier's signature public space for the fifth annual Luminothérapie, which will run from December 10, 2014 to February 1, 2015.
"Every year, this competition's winners say the same thing: Luminothérapie is a remarkable opportunity to use the city as a creative playground, as well as being a superb showcase for their talents," said Quartier des Spectacles Partnership chair Jacques Primeau. "The event attracts an impressive amount of both domestic and international media coverage. Some works have even been presented elsewhere. I am thinking of the Iceberg installation, created in 2012 by ATOMIC3 and Appareil architecture, which is now enjoying tremendous success in Brussels. Who will have the honour this year?"
"Today's call for Luminothérapie proposals is an opportunity for anyone who wants to create a unique experience for thousands of Montrealers and visitors," added Manon Gauthier, the Ville de Montréal's executive committee member responsible for culture, heritage, design, Space for Life and the status of women. "We hope a large number of up-and-coming artists will enter this competition, which is such an extraordinary platform for our young talents. We are looking forward to seeing many daring proposals. Surprise us!"
 The competition:
Proposed projects must be deeply connected to winter and inspired by the site's uniqueness. Projects must also give visitors a meaningful, participatory, experience by day or by night, and create a festive and luminous ambiance.
In order to promote the emergence of new cultural and artistic practices, applicants are strongly encouraged to form multidisciplinary teams. Quartier des Spectacles favours projects that encourage multiple points of view, in which disciplinary boundaries are blurred by the amalgamation of the languages of design, performing arts, literature, and visual and/or media arts.
The competition has two phases. In the first, applicants submit proposals for review; submissions are anonymous in order to maintain impartiality and ensure openness to new voices. In the second phase, the finalists will give a presentation to a jury.  The total production budget for the winning project is $225,000.

How to participate:
Participants must register by April 4 at noon Montreal time in order to receive the documents required for preparing their proposal. For registration forms, regulations and evaluation criteria, visit mtlunescodesign.com/en
---
Montréal, le 18 février 2014– Le rendez-vous hivernal Luminothérapie vient à peine de se terminer que le Partenariat du Quartier des spectacles prépare déjà celui de l'année prochaine. L'appel à projets a été lancé aujourd'hui pour le volet de mise en valeur et d'animation de la place des Festivals du concours Luminothérapie 2014-2015. Les inscriptions se termineront le 4 avril à midi, heure de Montréal.Les créateurs de tous horizons sont invités à proposer un concept original qui sera réalisé sur cette place emblématique du Quartier dans le cadre de la 5e édition de Luminothérapie, qui se tiendra du 10 décembre 2014 au 1er février 2015.

« Les lauréats le soulignent chaque année : Luminothérapie leur offre une occasion inouïe d'utiliser la ville comme terrain de jeu créatif en plus d'être une vitrine exceptionnelle de leur "savoir-créer" », a déclaré M. Jacques Primeau, président du conseil d'administration du Partenariat du Quartier des spectacles. « L'événement suscite en effet une impressionnante couverture médiatique ici et à l'international. Certaines œuvres sont même ensuite appelées à voyager. Je pense notamment à l'installation Iceberg, créée en 2012 par ATOMIC3 et Appareil architecture, qui connaît un véritable succès en ce moment même à Bruxelles. Alors, à qui la chance cette année? »
« L'appel de propositions qui est lancé aujourd'hui pour Luminothérapie est une opportunité qui s'offre à tous de faire vivre une expérience unique à des milliers de Montréalais et de visiteurs », a ajouté Mme Manon Gauthier, responsable de la culture, du patrimoine, du design, d'Espace pour la vie et du statut de la femme au comité exécutif de la Ville de Montréal. « Nous espérons que de nombreux artistes de la relève oseront profiter de ce concours, une tribune véritablement extraordinaire pour nos jeunes talents. Nous souhaitons les propositions nombreuses et éclatées : surprenez-nous! »
Le concours:
Le projet proposé doit s'inscrire au cœur de l'hiver et s'inspirer de la spécificité des lieux. Il doit également offrir aux visiteurs une expérience aussi bien diurne que nocturne, porteuse de sens et participative, en plus de créer une ambiance festive et lumineuse.
Dans le but de favoriser l'émergence de nouvelles pratiques culturelles et artistiques, la formation d'équipes multidisciplinaires est fortement encouragée. Le Quartier des spectacles privilégie en effet les projets qui incitent à la mixité des points de vue par la rencontre entre le design, les arts de la scène, la littérature, les arts visuels ou médiatiques.
Le concours se tient en deux étapes : la première se fait sur la base de propositions anonymes par souci d'impartialité et d'ouverture aux concepteurs émergents; la seconde consiste en la présentation devant jury par les finalistes des propositions sélectionnées. Le budget total prévu pour la réalisation du projet est de 225 000 $.

Comment participer:
Les participants doivent s'inscrire d'ici le 4 avril à midi, heure de Montréal, afin d'obtenir les documents pour préparer leur proposition. Pour obtenir le formulaire d'inscription, le règlement et les critères d'évaluation du concours, rendez-vous au : mtlunescodesign.com