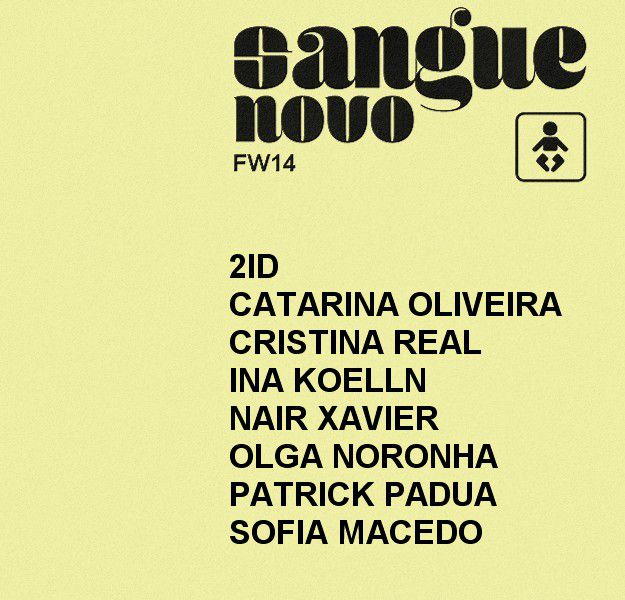 Moda Lisboa announces the "Sangue Novo" final list of young fashion designers, selected to present their collection during the next Lisboa Fashion Week in march 7, 8, 9 - 2014. "Sangue Novo" is a platform that promotes the recently graduated young fashion designers, and allows them to present their first collections in parallel with  the official fashion week. Eduarda Abbondanza president of ModaLisboa with the fashion designer Filipe Faisca and Paula Mateus the director of Portugal Vogue, met last January 13 2014 to evaluate the projects submitted to the "Sangue Novo" competition (that literally means "new blood" of fashion design) and they selected the final participants for the next edition at Lisboa Fashion Week FW14. This year, we will see the proposals for Autumn / Winter 14/15 season by this young fashion designers: 2ID, CATARINA OLIVEIRA, CRISTINA REAL, INA KOELLN, NAIR XAVIER, OLGA NORONHA, PATRICK PADUA,SOFIA MACEDO. Find here some looks from the last season "Sangue Novo" SS14 presentation.
// Moda Lisboa annonce la liste finale des jeunes créateurs de mode, sélectionnés pour présenter leur collection lors de la prochaine semaine de la mode à Lisbonne le 7, 8, 9 mars 2014. Eduarda Abbondanza présidente de ModaLisboa avec le soutien du créateur Filipe Faisca et Paula Mateus la directrice du Vogue Portugal, se sont rencontrés le 13 Janvier 2014 afin d'évaluer les projets soumis à la compétition "Sangue Novo" et ont sélectionnés les participants pour la prochaine édition de "Sangue Novo". Sangue Novo est une plateforme qui fait la promotion des jeunes créateurs récemment diplômés, et leur permet de présenter leurs premières collections en parallèle de la semaine de la mode officielle. Les jeunes créateurs sélectionnés présenteront leurs collections Automne - Hiver 14/15 et sont :   2ID, CATARINA OLIVEIRA, CRISTINA REAL, INA KOELLN, NAIR XAVIER, OLGA NORONHA, PATRICK PADUA,SOFIA MACEDO. 
Lisboa Fashion Week Fall Winter 2014-15 // Moda Lisboa Outono inverno 2014-15

7, 8, 9 march 2014 in Lisbon  + modalisboa.pt
clic on the pic below and see more about sangue novo spring summer 14 proposals that we covered last year.