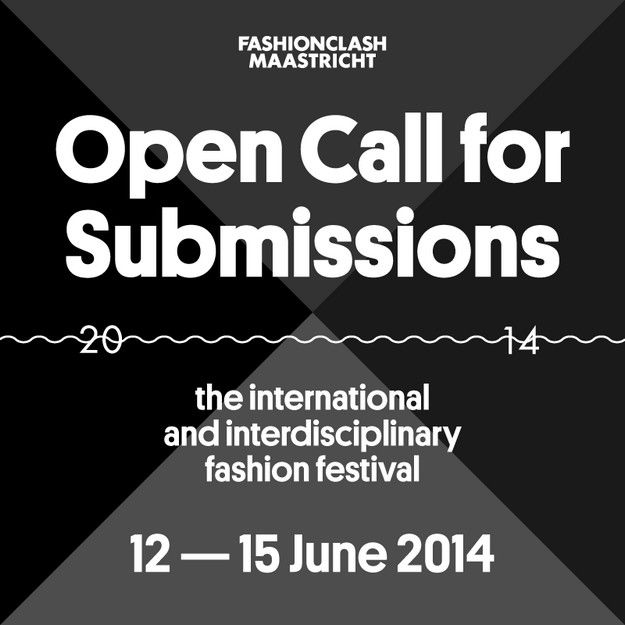 FASHIONCLASH is an International & Interdisciplinary fashion platform with main focus on young emerging talents. They connects talent, various disciplines, cultures and a broad audience through the annual international fashion festival they organized 'FASHIONCLASH Maastricht'. 6th Edition is in the making and scheduled for 12 - 15th of June 2014.
Open Call for Submissions :  
 « Dear artists, designers, photographers, performers and other 'fashion' related talents, We happily invite you to sign up for the 6th edition of the fashion festival FASHIONCLASH Maastricht.
FASHIONCLASH Maastricht is an inspiring fashion festival based in Maastricht, the Netherlands. FASHIONCLASH Maastricht shows the art of fashion in the broadest sense of the word. FCM is a platform where young and upcoming designers and artists from various disciplines get the opportunity to present their work to a broad and various audience, national and international press, industry leaders, etc.
Since the 1st edition in 2009 more than 700 talents from more than 30 countries have joined the festival and were given the opportunity to show their talent and work. Some of their careers really took of from there! »
You can download the application form here / More information about the submission here / Don't hesitate to contact directly the Fashionclash team (very nice people) if you have any question about the registration via this email : FCM2014@fashionclash.nl
Deadline for submissions is  10 March 2014.
FASHIONCLASH Foundation is based in Maastricht (The Netherlands) and was founded in 2009 by ABK Maastricht alumni Branko Popovic, Nawie Kuiper and Els Petit. Since 2010 Branko Popovic, Nawie Kuiper and Laurens Hamacher are the leading managing and artistic team behind FASHIONCLASH. We met them this year at ModaLisboa, last October and we love & support their work! Great job Branko & Nawie.