The Council of fashion designers of America announced that Raf Simons ( Dior ) will be awarded with the International Prize for his work at the house of Dior over the past two years. The awards ceremony will take place on Monday, 2 June - "is this language that Raf Simons has been able to so strongly impose in such a short space of time. It's this incredible modernity with which he has reinvigorated the house of Dior while fully respecting its unique spirit and traditions "
---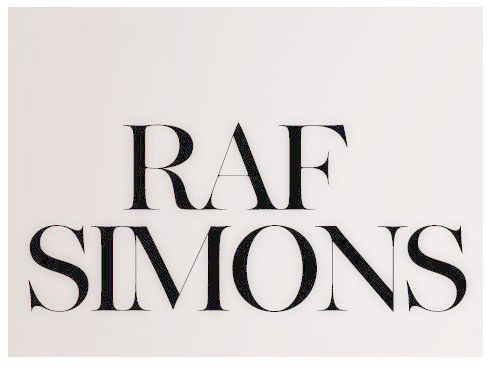 "A little under two years ago, Raf Simons was named Creative Director of the house of Dior. The most modern of designers and the most luxurious and desirable house came together in the same artistic impulse: and it promised a revolution in the world of fashion, just as the New Look  had engendered when Christian Dior presented his first collection, on the 12 February 1947. The two man share the same passions for contemporary art and architecture. And for both - Christian Dior in 1947, Raf Simons today - a modern vision of woman, in step with her time. For Raf Simons, it's a question of attitude, which is why the models in his first collection, in July 2012, walked with their hands in their pockets, seeking to show that haute couture isn't a rigid and untouchable form of fashion. His mini cocktail dresses were sliced off to be worn over black trousers, and the long electric blue panels of a bustier floated behind just as a scent trails a women. The collection contained a persistent memory of Christian Dior, and in it could be found his passion for flowers, his love of color, and his legendary Bar  jacket - though with everything being incredibly modern. And so this is how the language was so quickly laid down, a way for Raf Simons to speak Dior, in a way resolutely his own and yet wholly respectful of the master. The first ready-to-wear show, a few months after the first haute couture one, redefined the female wardrobe of today. Floral motifs lent delicacy to the techno fabrics of evening dresses. The silhouette of the Bar  jacket, with its nipped waist, rounded shoulders and hips exaggerated with
peplums, was reinterpreted as strapless dresses, coats... It became the key element of Raf Simons' Dior wardrobe. In other collections, it's sometimes only a simple effect to outline the silhouette that serves to remind one of the jacket by Christian Dior: a play on pleating, an opening at the waist, or lacing on a coat, as in the most recent ready-to-wear show, on 28 February."  from Dior Mag / www.Dior.com
---
2014 Cfda fashion awards nominees :
Nominees for Womenswear designer:  Alexander Wang, Joseph Altuzarra, Marc Jacobs.
Nominees for Menswear designer: Maxwell Osborne & Dao-Yi Chow (Public School), Marcus Wainwright & David Neville  (Rag & Bone), Thom Browne.
Nominees for Accessories designer: Alexander Wang, Lazaro Hernandez & Jack McCullough (Proenza Schouler), Mary-Kate Olsen & Ashley Olsen (The Row). +  cfda.com /
---