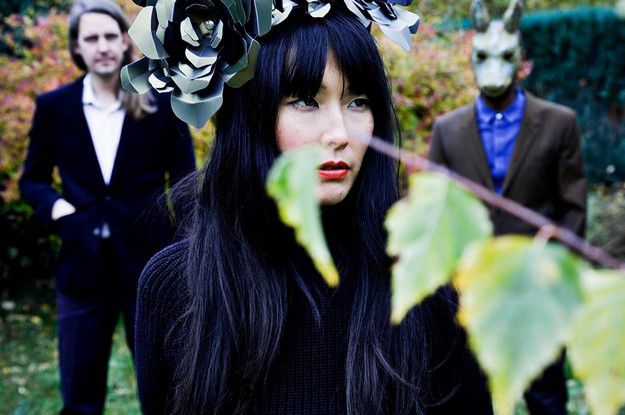 "Tristesse contemporaine" are Leo Hellden, Narumi Hérisson & Maik, a french band (dirty/Recordmakers label) of Punk, Tango, Psychedelic & electronic sounds that we love. Get "Stay Golden", Tristesse Contemporaine's new album with remixes from Kasper Bjørke, Daniel Maloso, Clément ASWF, and Hypnolove ! Now, find here the video of "Fire", Directed by Guillaume Cagniard, produced by Standard DOP by Michel Taburiaux and recorded at Xavier Veilhan's workshop in Paris. 
How they define themselves : "Most people don't know what they want or feel. And for everyone, myself included, It's very difficult to say what you mean when what you mean is painful. The most difficult thing in the world is to reveal yourself, to express what you have to... As an artist, I feel that we must try many things - but above all, we must dare to fail. You must have the courage to be bad - to be willing to risk everything to really express it all." (John Cassavetes)
// "Tristesse Contemporaine" est un groupe français (Leo Hellden, Narumi Hérisson et Maik) signé chez RecordMakers, qui viennent de sortir leur 2e album intitulé "Stay Golden" à consommer sans moderation. Voici la vidéo du premier  titre de leur album, "Fire", video dirigée par Guillaume Cagniard, produite par Standard DOP ( Michel Taburiaux ) et  enregistré à l'atelier de l'artiste français Xavier Veilhan à Paris. 
More info about the band :
http://tristessecontemporaine.com/
http://soundcloud.com/tristesse-contemporaine/
https://fr-fr.facebook.com/tristessecontemporaine
Tristesse contemporaine "Stay Golden" (album)Tracklist :
01- Fire
02- Stay Golden
03- Waitin
04- Going out
05- I Do What I Want
06- Can't Resist
07- Burning
08- Pretend
09- Most Times