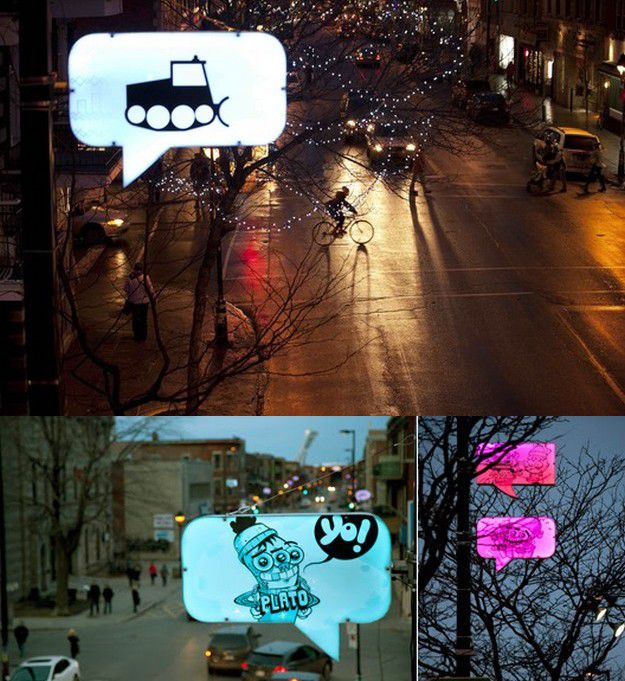 EN// The "Idée-O-Rama" project by Estelle Jugant and Yazid Belkhir from Turn Me On Design, winners of the winter lights competition launched in 2012 by the Avenue du Mont-Royal in Canada, was born from the initiative of designers to create a unique winter atmosphere on the Avenue. A festive and bright walk unfolds through bubbles borrowed from the world of comics. Inspired by this form which has now become the icon of the message and discussion, the designers transformed into three-dimensional objects and backlit. This multitude of bubbles installed along the artery consolidates its perspective from east to west. The concept is modular  and for this first year, the original graphics present on both sides, are signed Astro and Jean-François Poliquin.  
FR// Le projet Idée-O-Rama d'Estelle Jugant et Yazid Belkhir de Turn Me On Design, lauréats du concours de mise en lumière hivernale lancé en 2012 par l'avenue du Mont-Royal, est né de l'initiative des concepteurs de créer une ambiance hivernale unique sur l'Avenue. Une promenade festive et lumineuse se déploie par le truchement des bulles empruntées au monde de la bande dessinée. Inspirés par cette forme qui est aujourd'hui devenue l'icône du message et de la discussion, les créateurs la transforment en objets tridimensionnels et rétro-éclairés. Cette multitude de bulles installées le long de l'artère consolide sa perspective d'est en ouest.
Le concept est modulaire et pourra se réinventer à volonté en modifiant les illustrations exposées. Pour cette première année, les graphismes originaux présents sur les deux faces, sont signés Astro et Jean-François Poliquin. Ces bulles outrepassent les lieux communs des décorations du temps des fêtes pour accompagner notre climat nordique et le rendre festif.
Cette intervention temporaire, installée jusqu'au début de mois de mars prochain, met en avant un graphisme inédit qui est perceptible tant de jour que de nuit, lorsque son éclairage évolutif lui fait prendre toute sa valeur, ajoutant à la convivialité de se retrouver sur l'avenue principale du Plateau-Mont-Royal. Des bulles et un nouveau type de dialogue qui vont « faire jaser » la perspective de l'Avenue !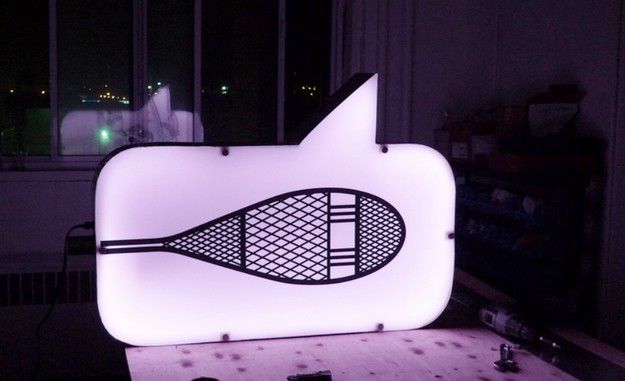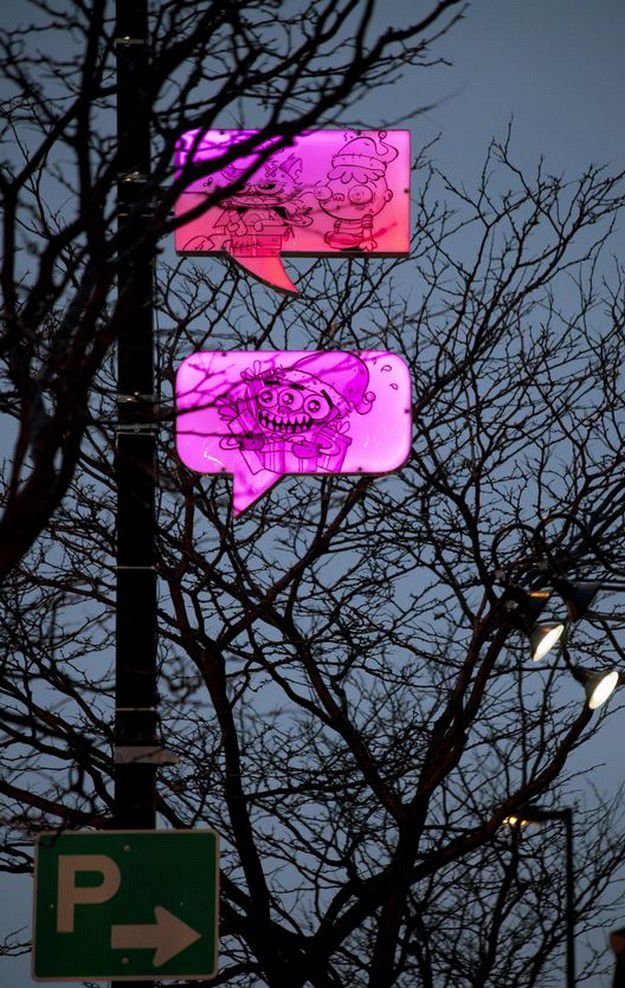 Credit / image : Bernard Fougères & Turn me on Design