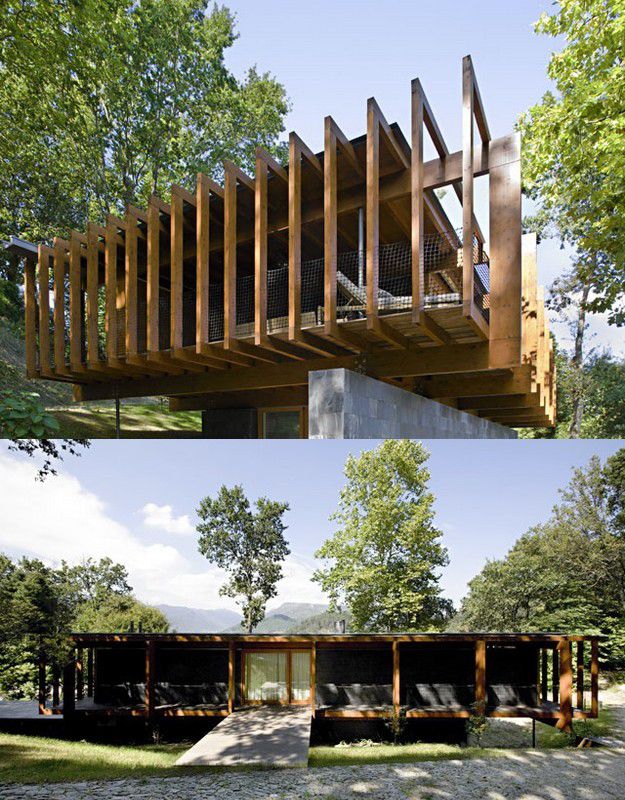 EN //  House in Caniçada # 02, in Gerês (Portugal), an architecture project by Arquiporto studio that also built the "House in Albufeira da Caniçada # 01. A wooden guest house with two floors with the guest rooms distributed on the ground floor.  On the first floor,  there are the living spaces open to the landscape with a large terrace around the house, and the kitchen and the necessary amenities for a pleasant stay. This landscape integrated architecture works as a « console » that let's you enjoy the surrounding landscape. The discrete construction,  lightweight and respecting the environment for many evident reasons is a "sustainable architecture ." The materials used are " a dialogue with nature." Primarily, wood for Southwest  facades with great transparency and solar shading effects , granite and concrete for foundations and slate implementation (northeast) for the walls where is the home entrance and allowing some privacy from the path. This house is part of a larger project developed by the associated architects of Arquiporto agency which aims to develop a modular construction system , easy to implement and lightweight in terms of environmental impact and construction prices , searching a "modular housing typologie" that we really appreciate.  This house is implemented in the beautiful region of the Gerês. Peneda-Gerês National Park is the refuge of some of Europe's last surviving great predators. A transition zone between the Mediterranean and the Euro-Siberian regions with a hotch potch of microclimates and new plants on every new trail. Wild boars, otters, roe deers and foxes exist side by side with badgers, eagles  and the last surviving wolves on the continent. Ancient megaliths, rock carvings and old dolmen graves lie scattered in the park. The ruins of Celtic "castros" and medieval castles rise above little hill towns, where modern life has not yet intruded and oxen are still used to plough the fields. 
FR //  Une maison en bois à deux étages servant de logement d'hôtes visitant le parc national du Gerês à proximité. Les chambres d'hôte sont distribuées au r.d.c pendant qu'à l'étage on retrouve les espaces de vies tels que le salon grandement ouvert sur le paysage avec une terrasse qui fait les 2/3 du périmètre de l'étage, ainsi que la cuisine et les commodités nécessaires à un agréable séjour. Cette architecture intégrée au paysage se place telle une console qui permet de profiter au maximum de l'environnant paysage. Une construction discrète, d'une grande légèreté et soucieuse du respect de l'environnement pour de multiples raisons, une "architecture durable". Les matériaux utilisés « sont un dialogue avec la nature ». Essentiellement le bois pour les façades Sud-ouest avec beaucoup de transparences et effets de brise soleil, le granite et le béton pour les soubassements et l'ardoise mise en œuvre au nord-est au niveau des parois ou se situe l'entrée de la maison et permettant ainsi une certaine privacité depuis le chemin d'accès. Cette maison fait partie d'un projet plus large, développé par les deux architectes associés de l'agence Arquiporto et qui tend à développer un système constructif modulaire, facile à mettre en œuvre et léger en matière d'impact sur l'environnement et le prix de construction, vers une « typologie d'habitation modulaire ».Architecture : www.arquiporto.pt   + www.modular-system.com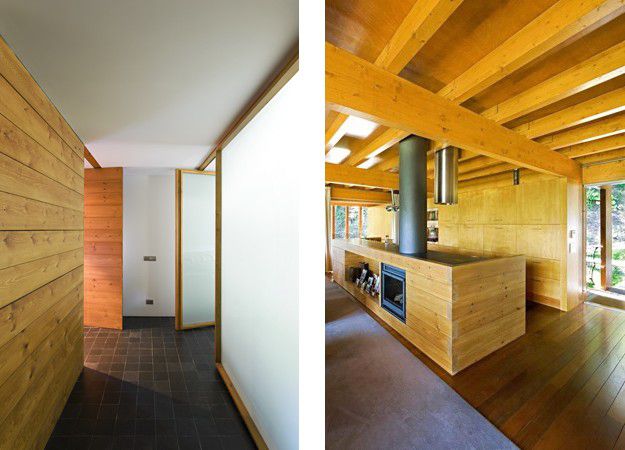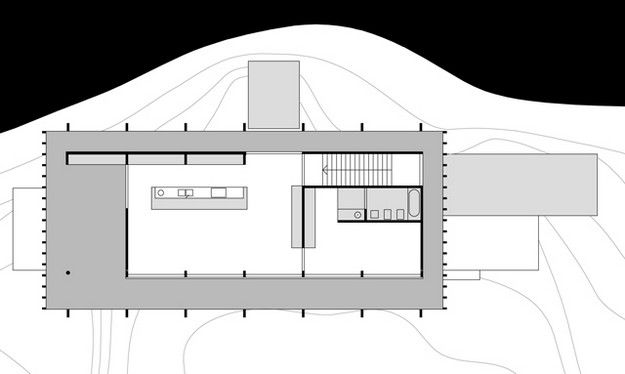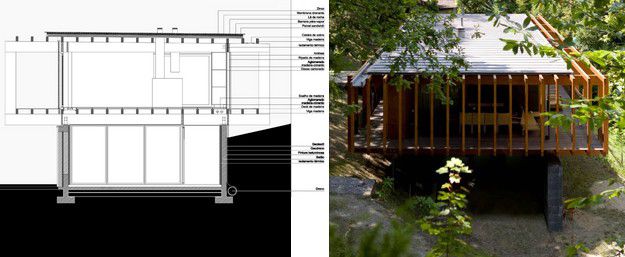 Find also another project on Gerês region, that we posted years ago, the "casa do geres" by Correia Ragazzi architects. Clic on the picture below to see more about this beautiful architecture project.